A selection of Liberty print ties
Posted on
Usually when an order comes through for a number of ties I have already had discussions with the customer about what they are looking for, and often they are for a larger number of the same design, but occasionally an order just drops in the inbox with a collection of different Liberty prints.

I had one of these recently and spent some of the time whilst sitting hand-stitching them wondering about when they would be worn - was it someone just having an update of their wardrobe and deciding to refresh their tie collection with a selection of different Liberty prints? or was it someone planning their wedding and choosing different prints to suit their different groomsmen?
Hand-stitching allows plenty of time for the mind to wander!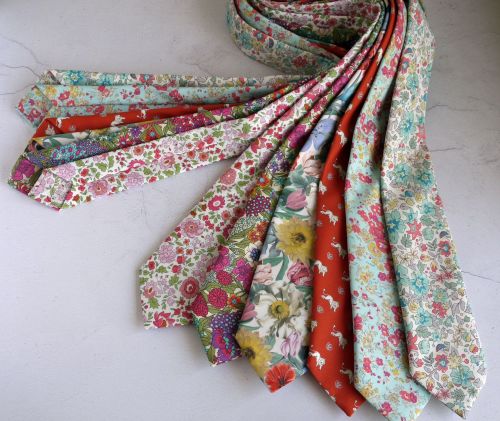 There wasn't a completely obvious theme but definitely a connection with the colours
The one that dropped into the inbox this last weekend was for six different colours of the classic William Morris Strawberry Thief design with matching pocket squares - I'm guessing that these were probably for a wedding too, but who knows maybe he is just a big fan of the design!